Poisonenvy
Poisonenvy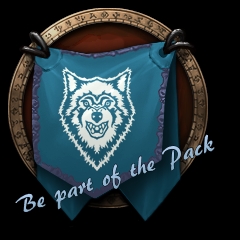 I feel like I'm nagging a lot about this at the moment, but we do seem to have one or two that are struggling to "get" our guild ethos. I know we have rules, and I know we say stuff like "be nice" and sometimes it sounds trite, and sometimes it sounds obvious (hopefully!), but it's all aimed towards people understanding how they should feel with and behave in a group, both with other guild members, and whilst you're representing our guild amongst others.
Our aim is for people to feel at home and comfortable with us - if they don't feel that in fairly short order, then I'd hope they would discuss their problems with us (myself and the officers). I'd like to think that our more long-term members would do their best to ensure that newer members (and everyone else, for that matter) feel at home and comfortable with us.
For those who have been with us a while, you should be completely aware of our rules and what we're trying to create and maintain, and you should be able to represent those rules faithfully .. if you find that someone else is perhaps not doing so, then in the first instance a polite reminder of the rules is in order, and/or notification to myself and/or the officer team. If problems persist, they should be brought to our attention. Screenshots are occasionally gratefully received depending on the problem.
If you find that you're unable to comply with the rules - if you disagree with them or they just feel unnatural to you, then there's no shame in admitting that perhaps we're not what you were looking for in a guild. We have had plenty of people over the years join because they hoped we would be right for them. Many were correct, some were not. Some left and went on to bigger and better things, or to enjoy the game more how THEY wanted to play, some came back after a while - either having tried alternatives and not liking them, or enjoyed them but decided they no longer wanted that type of interaction.
So .. if you're unsure what we're trying to achieve, please have another look over the guild rules, which are a good indicator. Obviously we don't include an exhaustive list of rules because, quite frankly, if I started making a list of every single thing you were expected NOT to do, it would go on forever. We've added a few things over the years when people have justified their actions with "well it didn't say specifically NOT to do it", but really people should be able to work out what is, and what is not, acceptable to us in this guild.
If you're still unsure .. just ask. Ask myself if you can or, if you can't, one of the officers.
If you find yourself on the receiving end of some behaviour you feel isn't in keeping with our ethos, please do let us know. We don't want people feeling uncomfortable or unwelcome and just deciding to leave or not log in anymore, when it could be something we can easily resolve.