Poisonenvy
Poisonenvy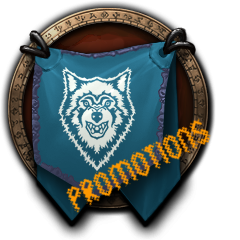 The following roster updates have been made today:

From Pup to Cub
Amarune-Mazrigos, Avardeath, Byron, Coe, Draxit, Felskors, Hotzoy, Joyzoy, Lhorily, Prayash, Qzoy, Rashiane, Rockaine, Shardana, Teila, Teyla, Thorrgad, Threida, Vaalan, Warrkid, Xayliah, Zenadori, Zhorazh.

From Cub to Juvenile
Asurmen, Coez, Nixle, Rodelem, Threi.

From Juvenile to Wolf
(alts placed in Wolf Alt rank)
Amaratsu, Halftor, Jestyr, McMuffindk, Nekysor, Njau, Redluster, Shabb, Stonewal, Xiuxiu, Zoneseek.

From Wolf/Wolf Alt to Werewolf
Andarael, Mingzhide, Rolim, Xantira.

For additional information on how the ranks work, please see that section in the guild rules. If you believe there has been a mistake, feel free to reply below and I'll look into it.
If anyone regularly raids and was already (prior to today) at the Wolf/Wolf Alt rank, and wasn't placed in the Werewolf rank, please let me know. Anyone who regularly raids and who has been promoted today to the Wolf/Wolf Alt rank will then be reviewed at the next set of promotions.
The following members have been removed due to long term inactivity (none of these members were in the MiA rank and the majority were inactive for around a year .. some of the lower ranked members were inactive for around 6 months):
Tachidk, Katzietroll, Linefa, Manolom, Dewiniaid, Glikaki, Vayne.

If any of these characters below to you, and you wish to remain in the guild, please contact me as soon as possible. If you wish to return after two weeks, please reapply using the application form on our website.
Please note that, if you're intending on being away from the game for more than 3 months, you should speak to me and we can either arrange to have a note placed against you in the roster (for shorter periods of time) or we can place you in the MiA rank, which will give you around 1-2 years before you're likely to be removed from the guild.