Poisonenvy
Poisonenvy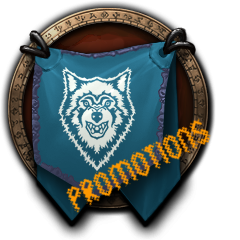 The following roster updates have been made today:

From Pup to Cub
Alarna, Avarist, Ceradriel, Deadmanheals, Eltheara, Evsclaw, Forcedmage, Georgecron, Itsnotaskirt, Jalknock, Jeffronfrien, Jinrowca, Kernowspal, Klandestyn, Legsnarms, Lilios, Loblollygirl, Luka, Moocowheals, Narishka, Naturjenta, Nolaan, Rildan, Saael, Sardonical, Shamrik, Staticfire, Tetsudau, Therissa, Tiabelle, Uriel, Victoria, Xephyra, Xyl, Zenzo, Ziamara.

From Cub to Juvenile
Avardeath, Bloodspikes, Byron, Diaiga, Eraz, Hotzoy, Januss, Joyzoy, Keanabeth, Kickazz, Kompeta, Kuraca, Kyriura, Maltalin, Teila, Teyla, Vaalan, Warrkid, Zaner.

From Juvenile to Wolf
(alts placed in Wolf Alt rank)
Asurmen, Coez, Feltulip, Ninimel, Rodelem, Threi.

From Wolf/Wolf Alt to Werewolf
Dudumuffin, Earthshaker, Gleeana, Rhalf, Sonskyn, Yenglowang, Shabb, Stonewal.

For additional information on how the ranks work, please see that section in the guild rules. If you believe there has been a mistake, feel free to reply below and I'll look into it.
If anyone regularly raids and was already (prior to today) at the Wolf/Wolf Alt rank, and wasn't placed in the Werewolf rank, please let me know. Anyone who regularly raids and who has been promoted today to the Wolf/Wolf Alt rank will then be reviewed at the next set of promotions.
As we are closing in on the end of this expansion, two additional roster changes will happen in the near future:
Firstly, at some point after the pre-expansion patch comes out (usually just before or just after the expansion hits), we will have a clear-out of inactive characters. Generally throughout an expansion I will occasionally have a clear-out, but this will be more thorough and will also include anyone in the MiA rank which we now feel are unlikely to return. To avoid being removed by accident, please ensure that all your alts are marked as such in the roster and, if you haven't been in-game for more than three months, but do intend to play in the next expansion, please ensure you've let us know.
Secondly .. just after the expansion hits, all characters in the Werewolf rank will be returned to their relevant Wolf/Wolf alt rank. This allows us to start afresh for the next expansion and will start to become populated again as people start raiding regularly in BfA.