Poisonenvy
Poisonenvy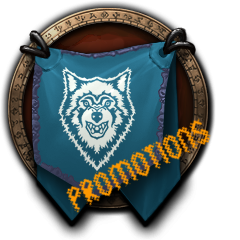 The following roster updates have been made today:

From Pup to Cub
Arnarraeldi, Burnzflake, Burnzi, Cruealla, Dorganon, Darkteddy, Demonicosmo, Dominors, Fendrox, Frenoda, Galhan, Hermes, Iburnzdk, Iburnzhunter, Jadeshadow, Jayunya, Lindale, Masonicc, Miaella, Morynth, Nassana, Oriyana, Osmodeus, Reeva, Reizael, Reizhar, Rolim, Shabb, Shabdi, Shabita, Shabitana, Symfora, Verel, Wonderhealz, Xaéla, Zaragus, Zarahz, Zherlton, Ziamara, Zilea, Zorisa.

From Cub to Juvenile
Frenhana, Marnne, Osis, Ristaan, Rodelem, Shammeister, Xephyra.

From Juvenile to Wolf
(alts placed in Wolf Alt rank)
Bigdorull, Kalafrak, Sarcator.

From Wolf/Wolf Alt to Werewolf
Mataeth, Pandabajaz, Persophenia, Roscarnis, Salazari, Zhalistwo, Daenarian, Jandor, Laronia.

The following members have been removed from the guild due to long term inactivity (some lower ranks have been inactive on all of their guild characters for 4 months or more, most have been inactive for around a year):
Bloodhero, Darksistersk, Eddymage, Laukan, Ayreon, Rouia, Roxinator, Squeezy, Zhettanni, Jeewes, Lightbloom, Kensopally, Valeyra, Hoinz, Dreadbeef, Forcedmage, Laurelia, Lunarli, Lloryl.

also, in a second wave:

Smashmoawr, Balfazore, Cimitri, Keterio, Jamslice, Vituperatio, Tealgrim, Oleander, Ariachi, Moosehoof, Graile, Deckthree, Sasanka, Jagel, Qwenn, Tangotorkel, Carcus, Thorfrostt, Garrash.

I've also moved the following to the MiA rank, with their alts removed from the guild:

Nheri, Maelynn.

These members are welcome to return at any time without needing to reapply, and can then have any alts re-invited.


For additional information on how the ranks work, please see that section in the guild rules. If you believe there has been a mistake, feel free to reply below and I'll look into it.
If anyone regularly raids and was already (prior to today) at the Wolf/Wolf Alt rank, please let me know. Anyone who regularly raids and who has been promoted today to the Wolf/Wolf Alt rank will then be reviewed at the next set of promotions.
Anyone who was removed today, who wishes to return, are welcome to reapply in the usual way via the website. Please mention the "main" character you had in the guild, if you can, on your application.
I did have a query about how the ranks and promotions work, and I'd encourage everyone to re-visit the guild rules if they're not sure. But basically the thinking behind the ranks is as follows:
Pup: First rank, trial. No vault access or repairs. This is the rank to discover if we are the correct guild for you, from a quick few weeks or so taster. If you don't come on much during that time, you're less likely to be promoted. If you don't come on for an extended period of time, you're more likely to be removed.
MiA: "Missing in Action". No vault access or repairs. No alts allowed. This is the rank reserved for those who are planning on taking an extended period away from the game, or those who have been inactive for an extended period of time but who we consider may well be back. It is a rank that safeguards the guild and the vault in case their account is hacked. It keeps the roster tidy because it removes often large numbers of inactive alts attached to the "main" character. It allows that member to return without having to re-apply to the guild, and to return at a "full member" rank (Cub), rather than starting at the first rank again.
Cub: Full guild member. Some vault access, some repairs. As long as you play your character fairly regularly and interact well with others, you're likely to progress to the next rank fairly quickly.
Juvenile: More vault access, more repairs. This is basically the rank where we assess how you're doing as a guild member, how you interact with others, how much you help or take part in chat/events, how well you know the guild rules, how well you stick to those rules and how much we feel you understand the guild rules (and the ethos and reasoning behind them).
Wolf: Virtually full vault access, more repairs. When you're promoted to this rank, on any character, all of your alts are placed in the Wolf Alt rank, which has the same benefits. To attain this rank we have to be fairly certain you can adhere to the guild rules, play well with others, understand the guild rules and help support/advise others in respect of the rules. You know the process for inviting alts into the guild, how the recruitment process works, how vault access works, how we deal with events in the calendar and how we deal with loot during events. You support those rules and support the guild leadership and officers in ensuring the smooth running of the guild and any events.
Werewolf: Full vault access, more repairs. These characters are those who have already attained the Wolf/Wolf Alt rank and who raid regularly with the guild. Those promoted to this rank are on a per-character basis, not per-account. The comments relating to the Wolf rank also relate to this rank in respect of the guild rules and ethos. Even more they should be fully aware of any raiding and loot rules and should support them.
The remaining ranks are officer ranks.