Poisonenvy
Poisonenvy
One of the fairly impactful things that was announced from Blizzcon, that is arriving soon (patch 7.3.5) is the changes to the various "old" levelling zones:
As everyone hoped and prayed, we are getting Legion-style level scaling for old world content! What does this mean exactly? Well, old zones will have a scaling range, so you won't be seeing Tirisfal at level 120, but it might scale all the way to level 60. It was important to keep some zones looking dangerous and not having Tirisfal be the same as the Plaguelands for example. In addition to this, Outland and Northrend will both go from 60-80, so you can choose which expansion you want when leveling new characters, like some of the new Allied races that start at level 20!

And the best part is, it's coming before the next expansion! 7.3.5 will have the beginnings of many of the improvements listed above, so we don't really know when exactly the full thing will be here.
This is a huge move to make the leveling experience better and make WoW more long-lasting, as we also heard word that we'll be getting even more Allied Races in the future, meaning even more leveling!

Poisonenvy
Poisonenvy
Wowhead provided more information on this:
During BlizzCon 2017, Blizzard shared their plan to improve the overall leveling experience going forward.
Starting in patch 7.3.5, all pre-Legion zones should scale up to a certain level. Currently the plan is as follows:
Starting Zones: 0-10

Classic Zones: 10-60

The Burning Crusade and Wrath of the Lich King Zones: 60-80

Cataclysm and Mists of Pandaria Zones: 80-90
Leveling has a renewed importance in Battle for Azeroth, as Allied Races acquire special Heritage Armor sets when they fully level to 120.The idea of the changes is to give more flexibility to player's leveling experience, preventing situations in which you would out-level the zone you're currently questing, allowing you to see the whole story of a zone, even when using heirloom items!You can bounce back and forth between zones and even expansions at will! The idea is improve to quality of the leveling experience. Items and rewards on those zones will also scale accordingly to your level.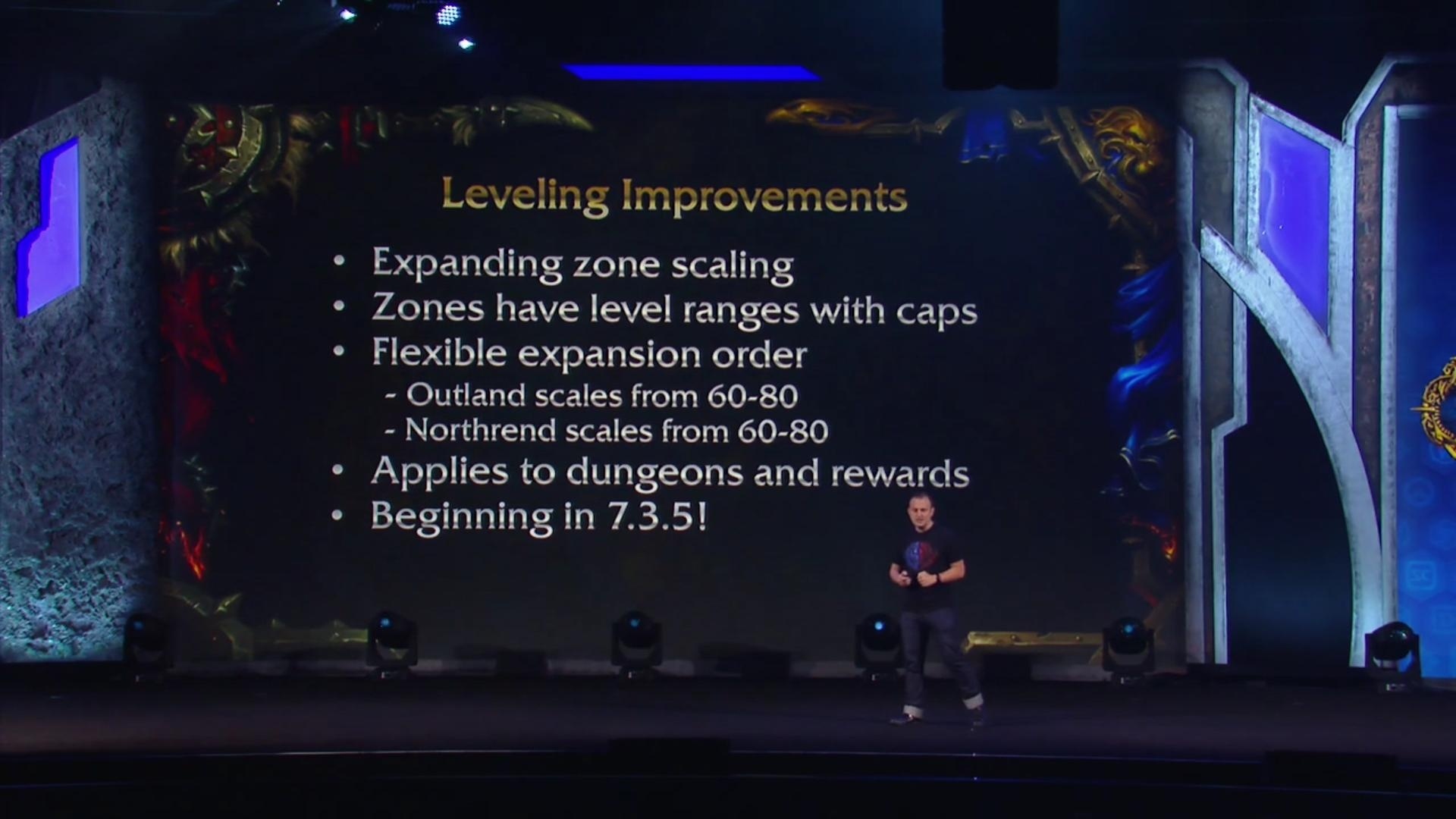 Expansion Overview
Here is an overview of each expansion and the features within, to help you choose where to level!

Burning Crusade (60-80)
Pplayers can venture outside of Azeroth through the Dark Portal. Outland is a shattered world, one where you'll first come face-to-face with the power and destruction of the Legion. You'll also first meet Illidan Stormrage and his trained Demon Hunters. Sound familiar? These are all themes that are revisited in Warcraft's upcoming expansion, Legion. For an overview of some cool things you can collect in Outland, check out A Week in Shattrath: Farming Outland Mounts and Pets at lvl85+. One of the most beloved factions to gain favor with is the Netherwing Faction, which grants you a beautiful dragon as a reward.
Wrath of the Lich King (60-80)
players can journey to Northrend, a land in the shadow of the Lich King and Icecrown Citadel. On this continent, you'll work to defeat the Lich King, learn more about the Titan history of Azeroth, and aid the Argent Crusade in fighting the Scourge. For an overview of some cool things you can collect in Northrend, check out A Fortnight in Dalaran: Farming Northrend Mounts and Pets at lvl85+.
Cataclysm (80-90)
Players can address the destruction on Azeroth caused by Deathwing as part of the Shattering. You'll help reclaim Hyjal from the Elemental Lords, investigate the threat of the Old Gods in Vash'jir, and aid the Dragonflights in restoring order in Dragon Soul.
Mists of Pandaria (80-90)
Players can journey to Pandaria, a secretive continent home to the peaceful Pandaren. On this continent you'll learn about the tyrannical Mogu, mysterious Klaxxi with unclear allegiances, and the jovial Pandaren. Alliance and Horde conflicts escalate to the point where the capital city of Orgrimmar is under siege by the renegade Warchief Garrosh. We have a guide to content you'll find in Pandaria if you want to learn more. We also have an in-depth guide to the Timeless Isle an area with many treasures, achievements, and rare elites!