Poisonenvy
Poisonenvy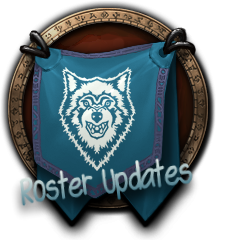 The following roster updates have been made today:

Promoted from Pup to Cub:
Cruncho, Gallone, Holyman, Shokz, Staticpali, Vaadren
Promoted from Cub to Juvenile:
Arcaydis, Deathfreek, Fianna, Grumpymatt, Hvede, Jaxeek, Llian, Ryuuth, Staticpriest
Promoted from Juvenile to Wolf:
(all alts placed in Wolf Alt rank)
Bluedabdi, Kirna, Kurthal, Paragus
Promoted from Wolf/Wolf Alt to Werewolf:
Nightlite, Nixil
For additional information on how the ranks work, please see that section in the guild info. If you believe there has been a mistake, feel free to reply below and I'll look into it.
If you are a regular raider (ie, you raid as and when you can, at least once or twice a month, and are an active guild member) and you're in the Wolf or Wolf Alt rank (prior to today), then please let me know and I'll check to see if you can be moved to the Werewolf rank. Remember .. Werewolf is on a "per character" basis and resets every expansion.
If you have ANY character in the Werewolf, Wolf or Wolf Alt rank, and have alts invited into the guild, please remind an officer to promote your new character to the Wolf Alt rank. Once you have reached the "Wolf" rank, all additional characters should automatically be given the Wolf Alt rank. (and when I say "automatically" .. I mean we still have to do it manually, but it's not something your new character has to work for
). If you do not have a character at the Wolf/Wolf Alt/Werewolf rank, then any alts invited into the guild should join as a Pup.
The following roster removals are likely to be made in the near future unless they, or any of their alts, become active once again:
Excaliburns, Grimdajin, Iyotake, Ragewyn, Moumentai, Roolhunter

These have all been inactive for a substantial period of time - mainly 6+ months. Some of these are individual characters, and some were "main" along with alts. Characters linked to others in the guild roster using the " Alt" public note were all checked to ensure that all characters had been inactive for some time. If any of the above are your characters, and you can show that you do have an active character in the guild, then please ensure your roster/public note reflects the correct links between characters.
Since the changes to the way the roster and permissions work, it is much more difficult to ensure characters are correctly linked. Whereas previously anyone with invite rights were able to adjust your public roster note in order to add your "main" when you had an alt invited, this is now not possible. The only people able to amend your public note now are you, when you're on that character, or an officer.
Characters that have nothing in their public notes linking them to other characters are much more likely to be removed for inactivity (as all linked characters are checked for activity prior to removal for inactivity).
Please also do not add anything in the public note section of your alts, other than the "main" character name. You may, if you wish, add your real name against your "main" - but no other information. Gear scores, roles, etc .. all often change and should not be included. See the Guild Rules for additional information.
Anyone completely removed from the guild roster, who then wishes to rejoin the guild, are welcome to complete a new application form, where they are advised to mention they were a previous guild member.