Poisonenvy
Poisonenvy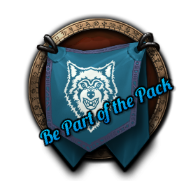 It is rare for me to feel the need to repeat rules this often, but as we have a few newer members who may be unaware, and more longstanding members who perhaps need a reminder, I am going to do it.
I do realise that sometimes real life is a pain, it can of course impact on your interactions when you play online. I also realise that sometimes we have bad days, or simply something happens which feels like that final straw.
HOWEVER.
This is a casual, social, friendly guild. We are part of a pack, if you like. As a pack, we act for the good of the guild as a whole, whilst also enjoying the game we pay for.
As a guild member, if you want to do content that has not been organised by the guild (generally guild raids), then you should be doing so within the rules of the guild. These were discussed recently in this Announcement.
If you join an event, you should be fully aware of any requirements for that event and you should prepare as much as you can. If you've signed up for something the week before, and then turn up last minute to the event with absolutely no preparation, no enchants, no food, no flasks, that is disrespectful and inconsiderate towards all of the other members who have put the effort in. It will be noted and, in all liklihood, it will be called out. If you need assistance with any of that, there are many in the guild who are more than willing to help.
As a part of the guild, if you have a personal issue with someone in the guild, that you feel is outside your remit or comfort zone to resolve yourself, you should speak to myself or one of the officers.
As a part of the guild, if you have an issue with the way the guild, or a guild event, is being handled, you should speak to myself or one of the officers.
As a part of the guild, if you have a problem with any of the guild rules, or interpretation of those guild rules, you should speak to me direct.
Finally ... notwithstanding the above, we are STILL a friendly, casual raiding guild. This does mean that, despite expecting people to do their research and preparation, we do not expect people to be perfect. The majority of us do not have perfect recall, cannot remember tactics from one night to the next perfectly, and often get easily confused. Many of us get lost, regularly, sometimes it's not even me! Some of us pull bosses too early, or fall off edges, or accidentally send a laser beam of doom right through the middle of the group. We obviously don't encourage this, but we do accept that this happens and understand.
I know that sometimes when we have a large group of people together, especially on voice chat, things may get frustrating - but please do not take your frustrations out on other people. Take a breath and think. Sometimes things feel scary - lots of strange people together, some of whom perhaps you don't quite understand - and you feel reluctant to ask for extra information.
I WOULD MUCH RATHER BRIEFLY GO OVER TACTICS/ANSWER QUESTIONS FIRST, THAN WIPE LATER. I ask that, whilst in a group, if you're not sure, please ask - and then listen to the answer. If you know the answer .. please allow the question to be answered without talking over or interrupting.
For those who get frustrated, please take a breath and remember what we are about. Think about how you could help, rather than what we're not doing.
We aren't a hardcore guild, we're not going for top of the progression charts, or the most kills in a night, or min-maxing our output, or any of those things. We're here to have some fun, allow people to raid in a friendly fun environment, perhaps introduce some to raiding who have only ever experienced LFR or pugs. For sure .. getting a full clear each night, and everyone getting at least one gear upgrade, perhaps a couple of achievements and the odd pet/mount, would be awesome. But lets get realistic about it.
We can improve some things and, if there are reasonable suggestions to help with that, within the ethos of the guild, we would be happy to hear them, but please remember that we're not here solely to cater to your requirements and your wishes .. we are here to be a good WoW home to lots of different people who all joined because they (in theory) read about how we do things, and liked it. We are not going to change that. We understand that sometimes people join and then decide they're looking for something else .. which is completely fine. Just don't expect the guild to adjust to your changed requirements ;-)
Please ensure you've read and are fully aware of the following:
Brief Description of Guild Raiding
All of the above links, everyone should have read and understood, and agreed to, prior to applying to join the guild. We do not accept applications from people who have not stated they accept the above.