Poisonenvy
Poisonenvy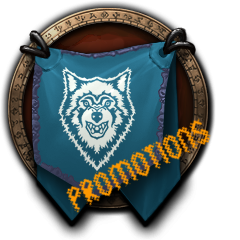 The following roster updates have been made today:

From Pup to Cub
Akromarus, Aleidan, Amaratsu, Apothecary, Ariat, Asmodeous, Asurmen, Bloodspikes, Fortreas, Ghostbuster, Grendala, Halftor, Hedshotz, Helenback, Januss, Kickazz, Killercat, Luchra, Masonicm, McMuffinDK, Mimiron, Najosi, Nekysor, Njau, Palmei, Pralice, Rakosh, Raquelle, Redluster, Rorgg, Spellshade, Splitlip, Stonewal, Tenric, Tenzula, Tokuro, Zaner, Zarakosh, Zhartali, Zoneseek

From Cub to Juvenile
Alotera, Arnarraeldi, Chilli, Dominors, Fendrox, Masonicc, Osmodeus, Shabb, Shabita, Shabitana, Zhivagos, Zilea

From Juvenile to Wolf
(alts placed in Wolf Alt rank)
Frenhana, Ironfury, Rodelem, Sharaj, Vistros

From Wolf/Wolf Alt to Werewolf
Asmundr, Calliope, Kiku, Nahsja, Vampiro, Bigdorull, Kalafrak, Kazaru, Sarcator, Tylani.

For additional information on how the ranks work, please see that section in the guild rules. If you believe there has been a mistake, feel free to reply below and I'll look into it.
If anyone regularly raids and was already (prior to today) at the Wolf/Wolf Alt rank, please let me know. Anyone who regularly raids and who has been promoted today to the Wolf/Wolf Alt rank will then be reviewed at the next set of promotions.

Poisonenvy
Poisonenvy
Just a quick bit of info too, in case anyone is interested. Currently we have 756 characters on our roster, from 208 accounts ;-)