Poisonenvy
Poisonenvy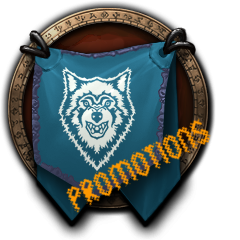 The following roster updates have been made today:

From Pup to Cub
Aequitas, Ahiga, Anorthrexia, Azikile, Bowner, Brewtality, Brit, Bruceflea, Burnzi, Byronic, Cestrimi, Clusterflock, Dalmore, Dragonasha, Dragonashai, Draxaladin, Draxstealth, Elthana, Enterfear, Erogdush, Eurydice, Gheedora, Glikaki, Hai, Harey, Huruka, Hatheta, Hatter, Iburnzhunter, Idylla, Isdria, Joepiler, Kasio, Kawill, Kazumbaq, Khalod, Kholzeye, Khorak, Kiele, Kludde, Kolbajack, Kronamanga, Kronargh, Kronestra, Krunganar, Linreus, Logorff, Logorn, Lu, Luhain, Luhaine, Luhe, Lukin, Luneth, Meijiani, Myra, Myu, Mattdaemon, Narcissa, Nightlite, Orokh, Palliedin, Pawstrongz, Pereawhana, Rhaegustus, Ruahoari, Rujar, Semilance, Seraphstar, Seregor, Sky, Slippryslope, Sorche, Staticblade, Stricken, Stulaxio, Suitup, Suraza, Sushichef, Svizz, Svizzera, Svlizzera, Swiftstep, Talisker, Threidara, Tracy, Vattghern, Witheros, Wood, Woody, Xanthina, Xoniac, Zakadin, Zordorann, Zulajin.

From Cub to Juvenile
Drochtuarach, Forcedmage, Jalknock, Jinrowca, Klandestyn, Konfor, Ogrian, Rildan, Staticfire, Tazok, Tenzula, Victoria, Xaela, Xenin, Zenzo, Ziamara.

From Juvenile to Wolf
(alts placed in Wolf Alt rank)
Hotzoy, Keanabeth, Robustus, Rorgg, Teyla, Vaalan.

From Wolf/Wolf Alt to Werewolf
Ana, Hasselhorn, Kintarin, Powerfreeze, Slovenly, Sixkiller, Vampirsha, Xanxia, Zacapi, Amaratsu, Asurmen, Daenarian, Fairview, Judoon, Kalafrak, Kazaru, Kloon, Laronia, Liengfield, Njau, Sarcator, Sonskyn, Stonewal, Taurinelion, Voodruid, Zoneseek.

For additional information on how the ranks work, please see that section in the guild rules. If you believe there has been a mistake, feel free to reply below and I'll look into it.
If anyone regularly raids and was already (prior to today) at the Wolf/Wolf Alt rank, and wasn't placed in the Werewolf rank, please let me know. Anyone who regularly raids and who has been promoted today to the Wolf/Wolf Alt rank will then be reviewed at the next set of promotions.

Apologies for the length of time it's taken to get the roster promotions sorted .. I'll try to get the next one done sooner
I will also, at some point in the near future, be looking at removing some members who have been inactive for a considerable period of time. Please do ensure that all your alts are marked up as such on your public note in the guild roster to prevent any being removed by accident.