Poisonenvy
Poisonenvy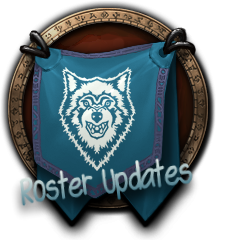 The following roster updates have been made today:

Removed for inactivity (including all alts):

Xenkai, Feltulip, Barbarea, Luhaine, Uriel, Iburnzdk, Ironfury, Maltalin, Dragonasha, Klandestyn, Forcedmage, Palliedin, Ogrian, Metalcoat, Kirito, Kholzeye, Rujar, Meijiani, Stulaxio, Firework, Hardoxnai, Ayreon, Monksea, Khorak.

Transferred to MiA rank (all alts removed):

Mscowiespet, Nibaru.

For additional information on how the ranks work, please see that section in the guild info. If you believe there has been a mistake, feel free to reply below and I'll look into it.
If anyone removed above wishes to return, you're welcome to submit a new application. Anyone placed in MiA is welcome to have their alts re-invited into the guild on their return.
Since the changes to the way the roster and permissions work, it is much more difficult to ensure characters are correctly linked. Whereas previously anyone with invite rights also were able to adjust your public roster note in order to add your "main" when you had an alt invited, this is now not possible. The only people able to amend you public note now are you, when you're on that character, or an officer.

Characters that have nothing in their public notes linking them to other characters are much more likely to be removed for inactivity (As all linked characters are checked for activity prior to removal for inactivity).
Please do ensure that all your alts are marked up as such on your public note in the guild roster to prevent any being removed by accident.
Please also do not add anything in the public note section of your alts, other than the "main" character name. You may, if you wish, add your real name against your "main" - but no other information. Gear scores, roles, etc .. all often change and should not be included. See the Guild Rules for additional information.